2015 rolls on, and so do we.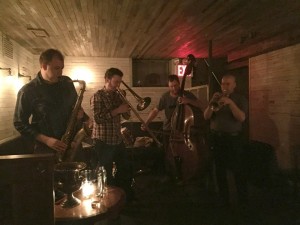 Curriculum had a great gig at Rye last week. Will is leaving town sometime this summer and while we'll continue to play, we're near the end of a period where I've played "standards" with that guy almost every week for about three years. Can't recommend some of our upcoming gigs enough.
Glad to have some more music performances to look forward to this month: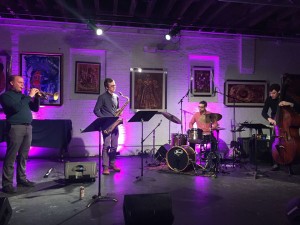 Friday, May 15: "Keen Ice Frammento" @ Why Not Jazz Room 7-8:30pm: OK, this band isn't really called Keen Ice Frammento. We were thinking about naming it, but haven't decided anything yet, so everyone is call it something different. Happy to be joined by Drew Williams, Andrew Schiller, and Deric Dickens to play some music by members of the band. FACEBOOK EVENT
Wednesday, May 20: Madjen @ Shapeshifter Lab 7-8pm: Another composer's collective I'm really happy to be a part of. This will be the second performance by this group, and the group is starting to sound really tight. We're going to play a piece of mine called "Today, Tomorrow, Yesterday". This is a video of it, but our performance at Shapeshifter is going to be better, I promise.
CANCELLED — Friday May 22nd: New Quartet — CANCELLED I'm sorry to report that, due to events outside of my control, this performance has been cancelled. We're looking into rescheduling, so look for that in a future update.
Wednesday May 27th: Curriculum Quartet at Rye 9pm. Back again! It will be worth your Wednesday night, for sure. They also have excellent cocktails there. More info..
Saturday May 30th: w/ Deric Dickens' "Rocket #9" at ibeam, Brooklyn 9:45pm. This one is on the anniversary of Sun Ra's death, so I guess it's appropriate that I'm going to be playing in Deric Dickens' Sun Ra inspired adventure with a large-ish cast of other people I won't attempt to name here. More info..
Sunday May 31st: Out of Your Head Brooklyn @ Threes Brewing, 8:45pm. Not playing on this one, but this is the last of a set of three Eric Trudel and I helped curate. More info..
And since I was a little late posting the May one, there's also…
Wednesday June 3rd: Curriculum Quartet at Rye 9pm. Again, it's worth it!