Old Music
Let's get right to it, if you haven't been in Brooklyn and had a chance to see Curriculum perform over the last few months, you have three more chances before Will moves away: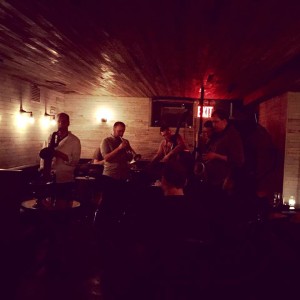 June 3rd, 9pm @ A.E. Randolph Presents
June 10th, 9pm and 10:30pm @ A.E. Randolph Presents**
July 1st, 9pm and 10:30pm @ A.E. Randolph Presents**
Like I said last month, Curriculum is a special project and this month we're closing out a period of approximately 3 1/2 years where I have gotten together with Will McEvoy and a few other close friends to "go to school" on some music that we feel is generally unfairly represented in institutions where jazz music is taught. Most recently, we have focused mostly on the music of Ornette Coleman. These performances will feature myself, Will McEvoy, Sam Weinberg, Josh Sinton, Ryan Snow, and Max Goldman combining to form what we're calling the Curriculum "Quextet".
**The last two performances will be recorded live for a possible future release, so we'd like to especially encourage you to come out and maybe get your hand on one of those records like Pee Wee Marquette said in that famous live Art Blakey record.
New Music
Also proud to be presenting several performances of original music this month!
Danny Gouker Quartet- Sunday, June 7, 6pm @ Cafe Vivaldi: This as yet unnamed ensemble features my music for trumpet, piano, bass, and percussion. I've been working hard with Zach Swanson (bass) and Jonah Rosenberg (piano) to find new paths for this relatively traditional instrumentation. Sam Ospovat will join us on percussion to play the part of the wild card.
Duo w/ Zach Swanson- Satuday, June 13th @ 1 + 2 + 3 home series: I've been playing duo sessions with Zach for a few years now, but this is our first performance! I think it will be worth hearing.
Danny Gouker Quartet- Sunday, June 28th, 6pm @ Cafe Vivaldi: Same project as June 7th, some details TBA!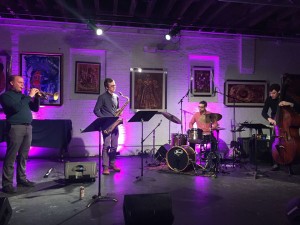 Bolo- Monday, June 29th, 8pm @ Why Not? Jazz Room: Bolo is a composing/improvising collective with Deric Dickens, Andrew Schiller, and Drew Williams. I like the music we've come up with. Maybe you will, too. Drew wrote a 9 part suite that we debuted last time, so maybe you would like things like that. If not, the rest of us have written some shorter pieces.