And we're back! July, August, and September were productive months full of great music, but I wasn't able to keep up with the monthly previews. However, October is a great time to start it up again because there's a lot going on in October.
First off, October is my first month as a curator at A.E. Randolph Presents. Check out the Facebook page for event pages with more details in the near future. In the meantime, you can go here for a quick rundown of the lineup.
As for public performances where I'm playing trumpet, there are several this month, so check one out:
Wing Walker Orchestra- Tuesday, October 6th, 8:00pm @ Threes Brewing: The second month of what looks to be a monthly series. This "orchestra" is not quite a big band, but it's getting there! Performances feature a wide range of compositions by members of the ensemble including my contribution, "Grumpy Cloud" which sounds a lot like what it's called. Facebook event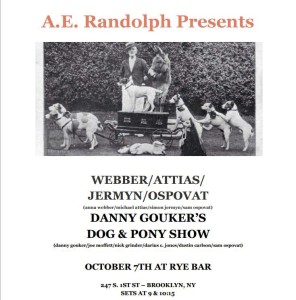 DG's Dog and Pony Show- Wednesday, October 7th, 9:00pm @ A.E. Randolph Presents: !!!!!!!!! DOG AND PONY SHOW!!!!!!!!!!! This will be an event. A musical event vaguely influenced by a combination of Lester Bowie's Brass Fantasy, dice with music note names on the sides of them, and binge watching both seasons of Twin Peaks. This will be an event, a Dog and Pony Show event.
Before the Dog and Pony Show will be a brand new group that I heard through the wall of a rehearsal studio once and was so moved by it that I asked them to play at A.E. Randolph Presents 4 months later. Facebook event
Dustin Carlson's Air Ceremony- Sunday, October 11th, 8:00pm @ JACK: Dustin is a crazy person. The music is not quite as crazy as Dustin, but it's close. This band has two guitars and it's awesome. Chris Welcome's quartet is also on the bill. We'll be debuting a new piece called "Secret Ceremony". Maybe that was a secret… Facebook event
Danny Gouker Quartet- Friday, October 16th, 8:00pm @ "Information Rhinoceros #1": This is a challenging project where I've worked on a few different ways to deal with pitch alongside Jonah Rosenberg on Piano and Zach Swanson on bass. As with previous performances, we bring in an unsuspecting drummer as sort of a wild card, a part played this time by the dynamic and imaginative Devin Gray. Facebook event
Curriculum Quartet- Monday, October 19th, 8:00pm @ The Whole Gallery Baltimore, MD:  Curriculum is back! I'm probably more excited than you are, but if you read this much of this post, then maybe you're excited, too. Double bill with a Time Toss. Facebook event
Curriculum Quextet- Wednesday, October 21st, 9:00pm @ A.E. Randolph Presents: The triumphant return of Will McEvoy to New York after he moved to Michigan and spent 3 months in exile there. Vilray will play between sets and it will be just swell and like old times and we can pretend that Will never left and everything isn't totally different now. Facebook event
Did you make it to the end? If so, enjoy this picture from a Signal Problems set in September: